Text o 3194 slovech se na standardní CityLight nevešel. Popisuje strasti života s long covidem
13. 12. 2022
|
Petr Michl
Tato venkovní reklama má text, který bolí číst. Je tak dlouhý, že se ani nevešel na standardní CLV panel a víc než půlka ho kouká až na chodník. Vypráví příběh ženy trpící long covidem, o jehož výskytu se téměř přestalo mluvit — pro mnoho lidí jsou přitom následky Covid-19 každodenní nepříjemnou realitou.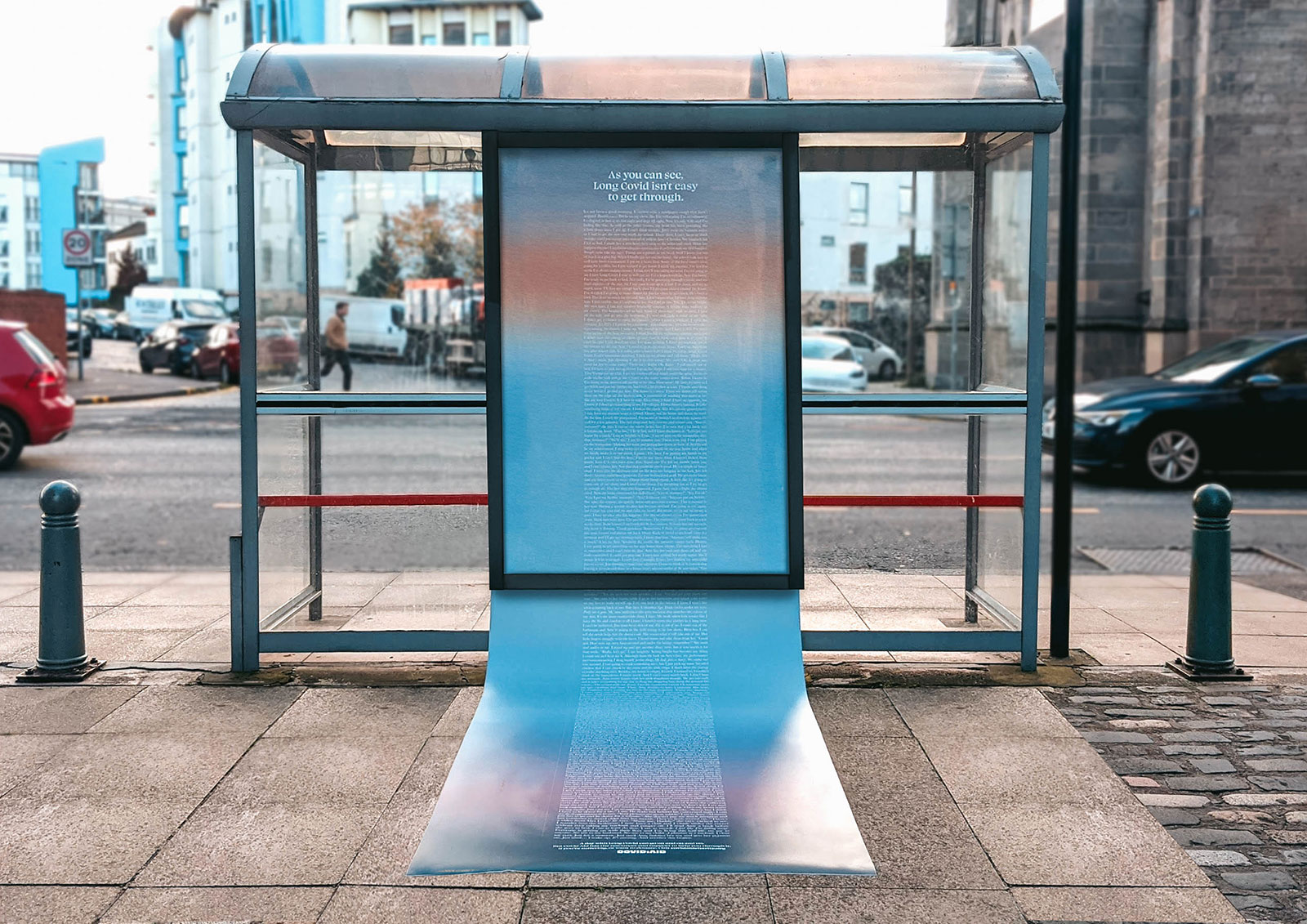 Komunikace čehokoliv spojeného s pandemií Covid-19 je nyní nesmírně obtížná. Velký podíl lidí po celém světě chce tuto nemoc jednoduše vytěsnit z paměti, jako by se nikdy nestala. Pravdou ovšem je, že stojí za smrtí milionů a další obrovské množství lidí má dlouhodobé následky po jejím prodělání. Britská charitativní organizaci Covid Aid vytvořila s pomocí agentury Leith venkovní reklamu, která na to upozorňuje velmi kreativním způsobem.
V ulicích Edinburghu jsou vystaveny dva Citylighty (CLV), které se vymykají standardům. Při volbě copy plakátu "za vitrínou" se rozhodně nehrálo na to, že vše musí vyjádřit ty nejstručnější a nejvýstižnější slogany. Celý text má 3194 slov a nevešel se do prostoru vymezeného panelem, expanduje proto na plátně i před něj.
Přečíst text této reklamy je navíc při jeho délce dost obtížné a není to příjemný zážitek. Právě o to, ale šlo.  John McPartland z agentury Leith uvedl v tiskové zprávě:
"Po rozhovorech s lidmi, kteří s touto nemocí stále žijí, jsme chtěli nějakým způsobem vyjádřit, jak namáhavý a obtížný může být každý den. Než abychom se snažili každý den destilovat, rozhodli jsme se, že nejefektivnějším způsobem bude vyprávět každý den v jeho celistvosti a dát čtenářům pocítit, jak vyčerpávající je. Proto byl text napsán tak, aby se jím dalo těžko prokousat. Je to náročné čtení, které odráží zdravotní stav."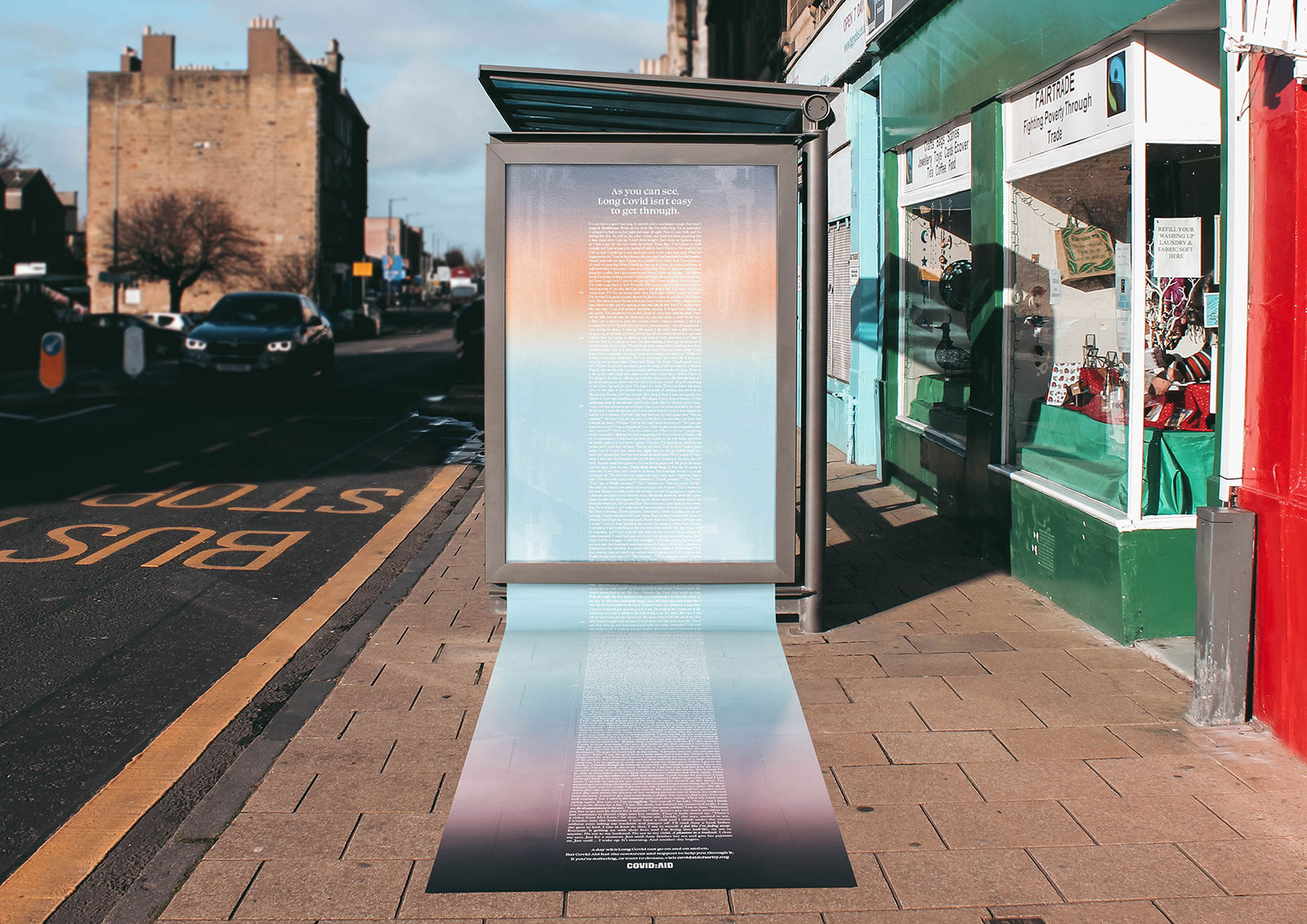 Celý plakát s inzerátem je dlouhý bezmála 4 metry a z CLV panelu ho přitom vykukuje více než polovina. Úplně celý text překládat nebudeme. Z popisu běžného dne někdejší finanční ředitelky, která je nyní ze svého pohledu nedostatečnou mámou své dceři Amy i manželkou svému choti Jimovi, nabízíme ale několik výňatků:
"Jak vidíte, přes Long Covid není snadné se dostat. Nebylo to dobré ráno. Začalo to kašlem ostrým jako šmirgl papír, který doteď nepřestal. Dýchavičnost. Cihly na hrudi, jako bych se dusila. Jsem tak vyčerpaná. Včera v šest večer jsem se zhroutila do postele a spala až do osmi. Teď je teprve půl desáté a já se cítím takhle. Kromě jiných hrůz mi od té doby, co jsem vstala, třeští hlava jako basový buben. Nemůžu pořádně přemýšlet…"

"Co se mi stalo? Bývala jsem finanční ředitelkou a teď nedokážu ani připravit snídani pro své dítě. Jednoduché úkony mi trvají celou věčnost. V hlavě mám zmatek. Věci, které znám, jsou mimo dosah v šedé mlze. Když jsem ji (dceru Amy, pozn. red.) konečně dostala z domu, cesta do školy se mi zdála jako maraton."

"Rozhodnu se postavit k troubě pro případ, že bych si zase nevšimla budíku. Dneska jsem zkazila všechno ostatní a jsem odhodlaná něco napravit. O dvacet minut později je hotovo. Vyndám čaj. Připravím každému talíř. Všichni se posadíme. Jim se Amy vyptává na školu. Přečte si e-mail, který jí každý den posílá učitelka, a ukáže jí fotky, na kterých dělá obrázky z listů, které nasbírala v parku. Dřív jsem ty e-maily dostávala a četla já, ale teď je to Jimova práce. Snažím se tvářit zaujatě, ale začíná mi být špatně a nedokážu do sebe dostat ani sousto. Pak se mi znovu rozbuší srdce. Jim vidí, že se mi nedaří. 'Jsi v pořádku?' zeptá se. 'Promiň, ale myslím, že si musím na chvíli lehnout,' řeknu. Přikývne, ale za jeho starostlivým úsměvem vidím v očích zklamání."

"Neříkáme nic, dokud se nedostaneme do domu. Naleju jí mléko, dám jí koblihu a zapnu Netflix mámu. 'Jdu si lehnout,' řeknu jí, ale ona nereaguje. Netflix máma je mnohem zábavnější a nekřičí na ni. Sednu si na postel a znovu se rozbrečím. Doufám. Kdysi jsem měla naději. Ale tohle mě o ni připravuje. Drží mě to na mušce a vyprazdňuje zásobník. Při těch vzácných příležitostech, kdy se cítím normálně a myslím si, že jsem to snad konečně porazila, že jsem snad konečně na vrcholu kopce, se o půl hodiny později opět sesunu k jeho úpatí a snažím se dýchat."
Je to síle, že? Po přečtení jen několika pasáží se příjemci této reklamy nemají cítit dobře. Long covid skutečně dokáže život nesmírně znepříjemnit a není žádným simulantstvím — mnohými je ovšem tak vnímán, a právě kvůli značné variabilitě jeho podob a nevyzpytatelnosti předpokladů pro to, kdo se s ním bude potýkat, není výzkumu možností jeho léčení přikládán takový důraz. Tato reklama se snaží daný problém nasvítit mimo jiné proto, aby se právě toto změnilo.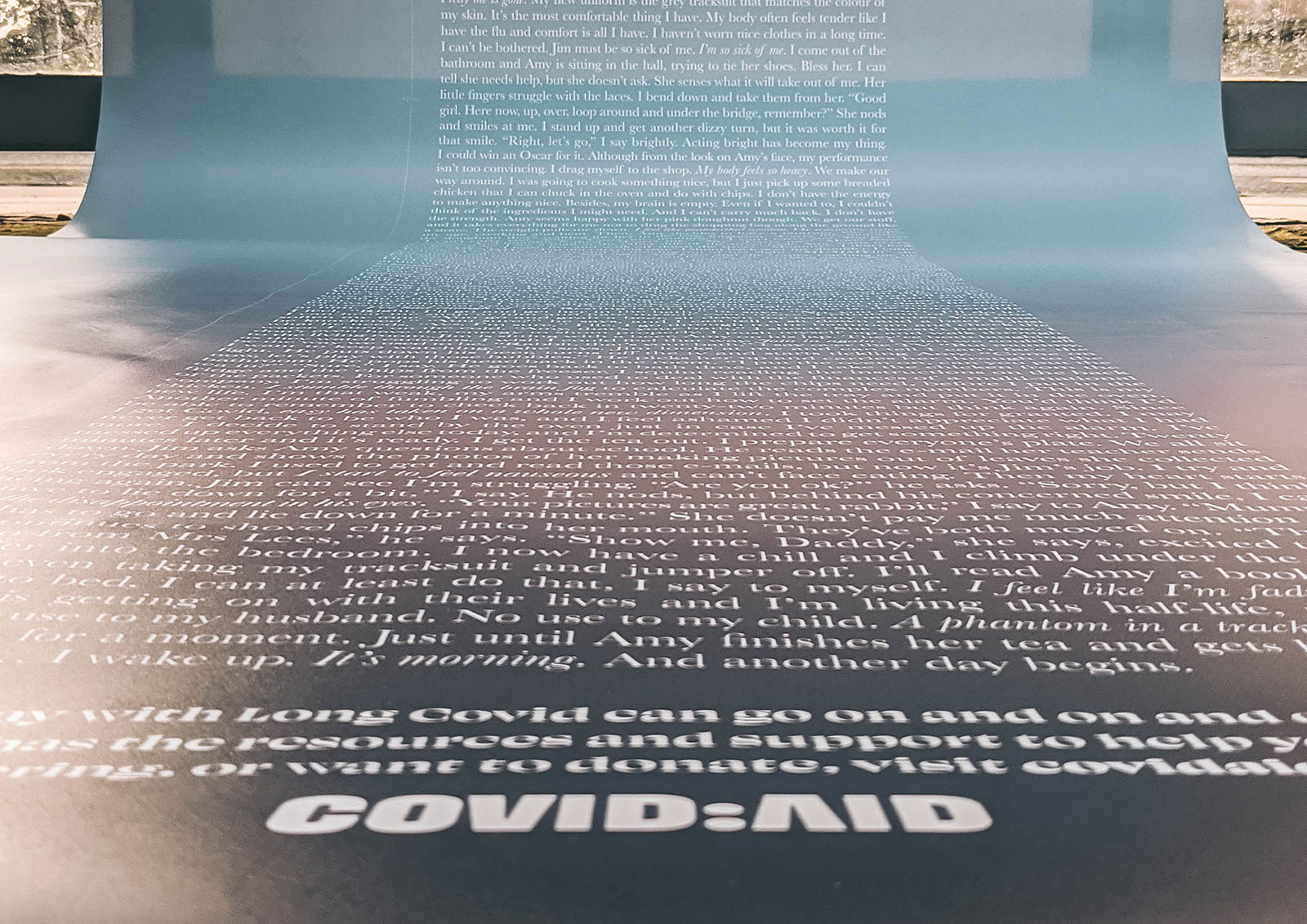 Originál textu reklamy v angličtině si můžete přečíst v boxu níže. 
"As you can see, Long Covid isn't easy to get through. It's not been a good morning. It started with a sandpaper cough that hasn't stopped. Breathlessness. Bricks on my chest, like I'm suffocating. I'm so exhausted. I collapsed in bed at six last night and slept till eight. Now it's only 9.30, and I'm feeling like this. As well as the other terrors, my head has been pounding like a bass drum since I got up. I can't think straight. Jim's away on business today, so I had to get the wee one ready for school. These days, I can't focus or think straight, and I put orange juice instead of milk in Amy's Cheerios. She laughed, but I felt so bad. I made her a new bowl then went to the toilet and cried. What has happened to me? I used to be a finance director, now I can't even make my child breakfast. Simple tasks take me ages. Things are a jumble in my head. Stuff I know, just out of reach in a grey fog. When I finally got her out the house, the school walk may as well have been a marathon. I put on a brave face. Some of the local mum's were going for a coffee, but I just wanted to get home. I made my excuses. The last few weeks I'm always making excuses. I think they'll stop asking me soon. I'm not going to say I have Long Covid. I may as well just say I'm a hypochondriac. Now I'm home, I'm ready to get back to bed. Normally, I'd be powering through e-mails and my third espresso of the day, but I just want to curl up in a ball. I sit down and try to watch some TV. Get my energy back, then I'll do some chores around the house. I've decided I'm going to make dinner for Jim for when he gets back. He's been a rock. Has done so much for me and Amy. I don't know what I'd have done without him. I feel terrible, but it's nothing to how bad I feel for him. The TV seems bright. My eyes hurt. I can feel another headache coming. A freight train rushing up my cortex. The headaches are so bad. Some of them have made me vomit. I turn off the telly and go into the bedroom, it's nice and dark, a relief to my eyes. I didn't get a chance to open the curtains (when I want a workout, I open the curtains). It's 10.15. I'll just lie for a moment... just a moment... then the housework... start sorting the dinner. I wake up. My mouth is dry, and I have a chill. I've been lying on top of the bed, no covers. I think Jim left the bathroom window open and I didn't have the energy to climb up and close it. God, what time is it? 2 pm? It can't be 2 pm. I just closed my eyes. I've done nothing. I didn't get anything out of the freezer for the tea. Now I'll need to go to the shops before I pick up Amy from her after-school club. Is it today, after-school club? I think it's today. Aargh, Covid brain, I can't remember anything. I pick up my phone and call them. "Hello, this is Amy's mum. Just checking if she is in club today? She isn't? Oh. Is there any room for her to come today? There isn't? Right. Ok. Right." I pull myself out of bed. I'll have to pick her up before I go to the shops. I still have time for a shower. That'll wake me up a bit. I get my clothes off and stand under the spray. Focus on a tile on the wall and go into a trance as the water comes down. Before I know it, I'm sitting in the shower, still staring at the tiles. Must move. My limbs feel heavy as I get dried and put my clothes on, but I feel a bit fresher at least. I'll grab something to eat before I go and get Amy. The house is a mess. There are dishes still sitting there on the edge of the kitchen sink, a mountain of washing that stares at me like my own Everest. It'll have to wait. First thing is food. I have no appetite, but I know if I don't get something in me, I'll collapse. I force down a banana. It's like swallowing lumps of wet concrete. I look at the clock. Shit. It's already passed three. I only have ten minutes to get to school. I hurry out the house and down the road. By the time I reach the playground, I'm so out of breath I need to lean against the wall for a few minutes. The bell rings and Amy sees me and comes over. "You ok, mummy?" she says. I can see the worry in her face. I've seen that a lot lately and it breaks my heart. "I'm fine," I lie to her, and I know she knows it. "Let's get you home for a snack," I say as brightly as I can. "Can we play on the trampoline after that, mummy?" "We'll see," I say, lie number two. There is no way I am playing on the trampoline. Making her toast and getting her down in front of Netflix will be an achievement. I stop twice to catch my breath on the way home and when we finally make it to our street, I panic. The keys. I'm putting my hands in my pocket and I can't find the keys. They're not there. God, I haven't locked them inside, have I? I can't have done that. Stupid cow. I've left my mobile inside too, and I can't phone Jim. Not that that would do much good. He's a couple of hours away. I turn into the driveway and see the keys are hanging in the lock. Just left there. Anyone could have gotten in. I'm not feeling good at all. We get in the house and my heart starts to race. Thump-thump-thump-thump. It feels like it's going to come out of my chest, and I need to sit down. I'm breathing fast as I try to get in enough air. The first time this happened, I gave Amy such a fright she almost cried. Now she looks concerned but dulled to it. "You ok, mummy?" "Yes, I'm ok." "Can I put on Netflix, mummy?" "Yes," I wheeze out. "You can put on Netflix." She takes the remote, sits quietly down and goes into a trance. This is normal to her now. Having a terrible mother has become normal. I'm going to cry again, but I close my eyes and try and calm my heart. Rat-tat-tat, rat-tat-tat, rat-tat-tat, it goes. I have no idea why this happens. The doctor doesn't either. I've gotten used to the blank face from him. The puzzled face. The concerned, come back in a few weeks, face. To be honest, I can't really face the faces anymore. Nobody has any answers. My heart is slowing. Thank goodness. Sometimes, I think it's going give up and just stop. I stand and almost fall back. Dizzy. Rush of blood to the head. Give it a moment and I'll get my bearings back. I know that now. "Mummy will make you a snack," I say to Amy. Speaking the words, the memory comes back. Dinner. I was going to get something on the way home from school. The one thing I had to remember, and I can't even do that. Amy has her coat and shoes off and she looks contented. I could just pop out. I can't face getting her ready again. She'll moan. It'll be a struggle. I can't face a struggle. I can't face making my own child put on a coat. Just thinking it makes me ashamed. Come to think of it, considering leaving a six-year-old alone in a house won't win me mother of the year either. "Get your coat on, Amy, we need to go and get some things for tea. It'll be nice to cook Daddy tea for once, won't it?" "But mummy…" Here comes the moan. "I know. Silly mummy forgot. We won't be out long. We'll get you a nice treat at the shop. How does that sound?" She's been getting more treats than she should. My shame is a boon for doughnut makers. Giving her an apple just doesn't seem to make up for my constant failures. She still looks grumpy. "Would you like a doughnut?," I say, details of the bribe falling from my lips. She perks up. "The pink one with sprinkles?" "Yes, the pink one with sprinkles," I say. "Go and get your shoes and coat." She runs to her room, while I go to the bathroom and splash cold water on my face to wake myself up. I try not look in the mirror. I know I won't like what is staring back at me. Pale face. Colourless lips. Dark circles under my eyes. Pretty me is gone. My new uniform is the grey tracksuit that matches the colour of my skin. It's the most comfortable thing I have. My body often feels tender like I have the flu and comfort is all I have. I haven't worn nice clothes in a long time. I can't be bothered. Jim must be so sick of me. I'm so sick of me. I come out of the bathroom and Amy is sitting in the hall, trying to tie her shoes. Bless her. I can tell she needs help, but she doesn't ask. She senses what it will take out of me. Her little fingers struggle with the laces. I bend down and take them from her. "Good girl. Here now, up, over, loop around and under the bridge, remember?" She nods and smiles at me. I stand up and get another dizzy turn, but it was worth it for that smile. "Right, let's go," I say brightly. Acting bright has become my thing. I could win an Oscar for it. Although from the look on Amy's face, my performance isn't too convincing. I drag myself to the shop. My body feels so heavy. We make our way around. I was going to cook something nice, but I just pick up some breaded chicken that I can chuck in the oven and do with chips. I don't have the energy to make anything nice. Besides, my brain is empty. Even if I wanted to, I couldn't think of the ingredients I might need. And I can't carry much back. I don't have the strength. Amy seems happy with her pink doughnut though. We get our stuff, and it takes everything for me not to drag the shopping bag along the ground like a stone. The weight pulls me down. I feel like neanderthal woman. Or someone twice my age, creaking and bent. Then, Amy decides to have a tantrum. She stops, the doughnut that's waiting for her in the bag, forgotten. "Carry me, mummy." "I can't carry you, Amy." "Carry me, mummy." "I can't carry you. You're too big now. And mummy is tired." "Carry me." "No." "Carry me." "Move! Now!" I scream at her. I see a man at the other side of the street look. Amy starts to cry. I can't take it. I leave her and walk off down the street. "Mummy!" I don't look back. "MUMMY!" "I'm not carrying you," I shout back over my shoulder. I come to the corner and walk around it, moving out of her sight. "MUMMY!!!" she screams. I win this game of high-stakes child poker and she comes, catching me up. Tears are still streaming down her face, but her legs are working again. We don't say anything until we get in the house. I pour her some milk, give her the doughnut and switch on Netflix mummy. "I'm just going to lie down," I tell her, but she doesn't respond. Netflix mummy is far more fun and doesn't scream at her. I sit on the bed and start to cry again. Hope. I used to have hope. But this robs me of it. It's held me up at gunpoint and emptied the vault. On the rare occasion that I feel normal, and I think that I might finally have beaten it, that I might finally be at the top of the hill, half an hour later, I'm slumped at the bottom again, struggling to breathe. The carpet is pulled out from under my feet and I'm back in bed, my skull scraping across my brain like tectonic plates. My phone pings. It's Jim, he's left a voice message. I call and listen. He's on his way home, hopes I'm doing ok, should be back in a couple of hours. I want to call him back, but he's driving and probably enjoying the break from me. I'll just have a wee lie down and then get the dinner on. I'm determined to do the one thing I planned today, even if it is just chicken and chips. I suddenly feel guilty and walk back in to check on Amy. "You ok, rabbit?" (I call her rabbit, don't ask me why.) "Yes, mummy." "Mummy's just in her bedroom. Call if you need me." "Yes, mummy." I lie down on the bed and close my eyes… Something is shaking me. I'm in an enveloping blackness, so peaceful, but someone is shaking me. "Rachael. Rach. Wake up, Rachael." I'm not in that warm nothingness anymore. I'm opening my eyes and looking up at Jim above me. "You ok, darling? You've been fast asleep." "What time is it?," I say. I'm confused and sit up. "What time is it? I need to put the tea on. Is Amy ok?" "Calm down, calm down," Jim says, gently rubbing my back. "Amy is fine. I'm running her a bath and I'll put the tea on in a minute. How are you feeling?" I'm feeling wiped out, but I don't tell him that. "Better, thanks. The sleep really did me good. I only meant to close my eyes for twenty minutes… I was going to make you dinner…" "Don't be daft," he says, "the rest is just what you need." I've been resting for eight months, I want to scream at him. I've had enough of rest. Resting is all I do. The nicer he is, the more terrible I feel. "Right, I'll go and get her in the bath," he says. "No, you won't. I'll do it." I can hear me snap at him and hate myself even more. I climb out of bed and soften my tone. "You go and grab a beer, sit down for twenty minutes. You must be knackered." "You sure?" he says, and I can tell a sit down and a beer is just what he needs. "Yes, I'm sure," I lie. I go through to the bathroom and check the water. I turn on the cold. "Amy, that's your bath," I shout. She doesn't hear me. I don't even have the energy to shout properly. I push myself up and walk through to the living room. Jim is sitting with a beer, Amy on his lap. They're both laughing as they watch cartoons. I wish I could feel that way. Join in again. I wish we could all be the way we used to be. "Rabbit, that's your bath," I say over the TV. "But mummy, I want to keep watching," she says. Jim looks at me and can tell I can't face the fight. He puts down his beer, turns off the tv and starts tickling Amy. "Come on now, let's play with those bubbles." He picks her up and carries her through to the bathroom. He pops his head back in the room. "I put the oven on, can you put the tea in?" "Sure," I say. He goes back to bath time, and I take the chicken from the fridge and the chips from the freezer. I squint reading the instructions on the back of the packets. For someone who used to deal with the finances of a multi-national company, I'm struggling to work out how long the chips need, before I put in the chicken. I stumble through the brain fog to calculate the complex numbers. This is my new life. I'm that weak, my arms tremble as I lift the tray and put it in the oven. Another minute of fumbling and I work out how to set the alarm. You'd think I'd be able to remember to check back in twenty-two minutes but think again. Since I got Covid, easy has taken on a whole new dimension. I took things for granted. I may never get back to be who I was, and I feel ashamed I didn't appreciate what I had more. I decide to stand by the oven just in case I've messed up the alarm. I've messed up everything else today, and I'm determined to get something right. Twenty minutes later and it's ready. I get the tea out. I prepare everyone's plate. We all sit down. Jim asks Amy questions about school. He reads the e-mail her teacher sends every day and shows the photos of her making pictures out of leaves she collected from the park. I used to get and read those e-mails, but now it's Jim's job. I try and look engaged, but I start to feel nauseous and can't face eating. Then my heart starts racing again. Jim can see I'm struggling. "Are you ok?" he asks. "Sorry, but I think I have to lie down for a bit," I say. He nods, but behind his concerned smile, I can see the disappointment in his eyes. "Your pictures are great, rabbit," I say to Amy. "Mummy just has to go and lie down for a minute." She doesn't pay me much attention and just continues to shovel chips into her mouth. They've both moved on. "There's a video from Mrs Lees," he says. "Show me, Daddy," she says, excited to see. I wander into the bedroom. I now have a chill and I climb under the covers without even taking my tracksuit and jumper off. I'll read Amy a book before she goes to bed, I can at least do that, I say to myself. I feel like I'm fading away. Everyone is getting on with their lives and I'm living this half-life, no use to anyone. No use to my husband. No use to my child. A phantom in a tracksuit. I close my eyes. Just for a moment. Just until Amy finishes her tea and gets her pyjamas on. Just until… I wake up. It's morning. And another day begins. A day with Long Covid can go on and on and on. But Covid Aid has the resources and support to help you through it. If you're suffering, or want to donate, visit covidaidcharity.org"
---